Women Knit Uteruses for Lawmakers
An organization called
Government Free VJJ
is encouraging women to knit uteruses and send them to male members of Congress with the note, "Dear Men in Congress: If we knit you a uterus, will you stay out of ours?" Supporters can either send the knitted organs directly to their congressional representatives or to project organizers who will hand deliver them. And as debate continues in Arizona about a controversial bill that would allow employers to dictate if an employee's insurance could cover contraception, one woman says she will begin sending a knitted uterus to Arizona legislators after she sends them to Arizona's congressional delegation. Watch a local news report about the bill and the knitting:
here
.
Tennessee Abortion Bill Would Make Abortion Providers' Names Public
A new bill moving through the Tennessee House of Representatives would require the state to publish the names of each doctor who performs an abortion and detailed statistics about the woman having the procedure, which opponents worry will spur anti-abortion violence in the state. The Life Defense Act of 2012, sponsored by state Rep. Matthew Hill (R-Jonesboro), mandates that the Tennessee Department of Health make detailed demographic information about every woman who has an abortion available to the public, including her age, race, county, marital status, education level, number of children, the location of the procedure and how many times she has been pregnant. Each report would also have to include the name of the doctor who performed the procedure.
Several health organizations, including the Tennessee Medical Association and Planned Parenthood, are concerned that the bill will make doctors and women vulnerable to attacks, especially considering the murder of Dr. George Tiller, a Kansas abortion provider, by an anti-abortion activist in 2009.
"We live in an environment where there is a lot of violence against abortion providers, clinics, and clinic staff," said Jeff Teague, president and CEO of Planned Parenthood of Middle and Eastern Tennessee. "We've had physicians who provide abortion care murdered in the past few years. This is an attempt to intimidate physicians who provide abortion care and the women who seek abortions and to terrorize them."
Rep. Gary Odom (D-Nashville) called the bill "very dangerous," and said the Republicans who voted it out of a House subcommittee offered "no explanation as to why this was something that needed to be done."
"It puts a target on women's and physicians' backs," he told HuffPost. "I think it's a very dangerous piece of legislation and serves no purpose I can tell other than trying to intimidate women and physicians."
Hill, the bill's sponsor, did not respond to a request for comment. Nor did Tennessee Right To Life, the anti-abortion group that first suggested the bill to conservative state lawmakers. But at a subcommittee hearing on the bill earlier this month, Hill said, "I think it's fair for folks on both sides to see how prevalent abortion is in our counties and in our communities."
The House Health and Human Resources Committee is expected to vote on the bill Wednesday, and Odom said he expects it to pass in the GOP-dominated House. It will then move to the state Senate, where Republicans are also in the majority.
Original Huffington Post pieces:
here
Idaho Senate Votes To Require Pre-Abortion Ultrasound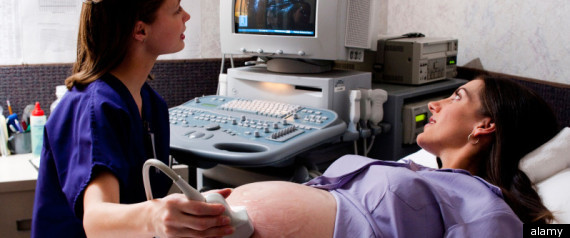 The Idaho Senate on Monday approved a measure requiring women seeking abortions to undergo an ultrasound before ending a pregnancy, joining a number of states passing ultrasound measures to discourage abortions.
The bill now heads to the state House of Representatives, where it was expected to pass.
Idaho's Republican Governor, C.L. "Butch" Otter has not yet said whether he would sign the bill into law and a spokesman declined to comment on Monday.
Otter said last April, after signing a measure banning abortions after 20 weeks of pregnancy, that he supported restrictions on abortion.
Idaho is among 10 states considering a form of ultrasound legislation, said Elizabeth Nash, state issues manager for the Guttmacher Institute, an abortion-rights think tank.
A law recently passed in Virginia goes into effect in July, which will bring to eight the number of states requiring pre-abortion ultrasounds, she said.
The bill moving through Idaho's legislature is modeled after a Texas law which requires abortion providers to show or describe to a woman an ultrasound image of her fetus.
That 2011 law went into effect last month after withstanding a challenge in federal court.
Like the Texas measure, which is considered the most restrictive in the nation, the bill in Idaho offers women the option of declining to view ultrasound images or listen to the fetal heartbeat.
The legislation would subject abortion providers who do not sign and date a statement about the particulars of the ultrasound and women's responses to it to disciplinary actions or civil penalties.
Supporters of the measure, sponsored by Assistant Senate Majority Leader Chuck Winder of Boise, said it provides another layer of protection for a woman seeking to terminate her pregnancy.
"It provides the opportunity for her to learn all the important facts before making this life-changing decision," according to a statement by Right to Life of Idaho.
Opponents argue that most women seeking abortions in Idaho will be forced to undergo an invasive "vaginally administered" procedure.
The majority of abortions are performed before 10 weeks of pregnancy, when an image of the fetus can only be captured through an internal exam, pediatrician and Democratic state Representative John Rusche, said in a statement.
"The practitioner then needs to record the gestational age and fetal heart rate if present. That info can really only be determined by the 'internal' study," he said.
Virginia considered but ultimately decided against requiring an invasive vaginal probe after strong criticism from women's groups and abortion rights supporters, who said it would be demeaning to women.
The ultrasound measure passed the Idaho Senate in a 23-12 vote mostly along party lines.
Idaho and five other states in the past two years have enacted late-term abortion bans based on controversial medical research suggesting a fetus feels pain starting at 20 weeks of gestation.
Idaho's 20-week ban and a 1972 law making it a felony for a woman to end her own pregnancy, are being challenged in federal court.
Original Huffington Post piece:
here